For more than two decades, Aquatic Systems® has manufactured their proprietary Vertex® aeration products of exceptional quality and durability in their Florida U.S.A. facility. Their customer-focused philosophy ensures that customers get superior performance at a great value.
Vertex® aerators can be found in private ponds, on golf-course ponds and in municipal harbors and parks in many locations in Nova Scotia, PEI, New Brunswick and in Newfoundland. Vertex® aerators and their line of decorative aerators are a perfect for commercial applications, private ponds and lakes or municipal displays where efficient and cost-effective aeration is required. Vertex® aeration systems are available in Canada through Acadian Aquatic Systems . We can can supply your Vertex® aeration system needs in Nova Scotia, Newfoundland, New Brunswick and PEI.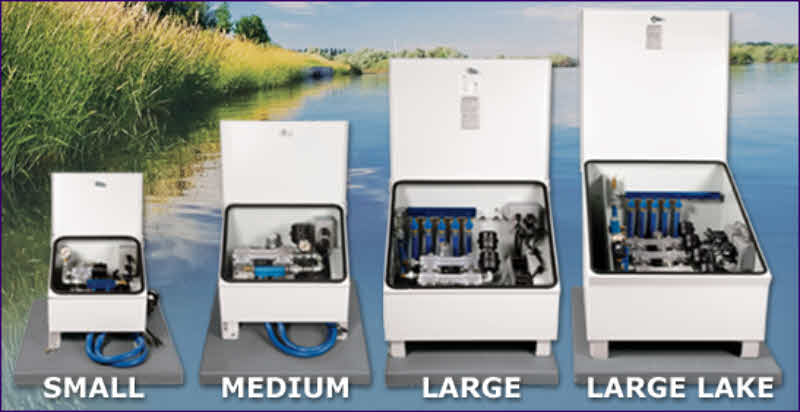 Also used extensively in industrial waste water aeration and commercial cooling ponds and retention ponds where cost-effective strategies are required. Vertex systems are low-maintenance and can be installed quickly by a private pond owner or an industrial plant technician.
Contact us for pricing and information on Vertex Aeration or Fountains and recommendations for specific applications and design assistance. We serve Vertex aerators and de-icers in Nova Scotia, New Brunswick, Newfoundland and PEI as well as anywhere in Canada or the USA. Phone Toll Free 866-533-2863 or Email info@acadianaquaticsystems.ca
The Vertex Diffuser Assembly
The Vertex diffuser assembly has distinct advantages over other bottom-mount and lake-bed aeration diffusers. The pumping rates of the diffuser assemblies range from 2,000 gallons per minute to 20,000 gallons per minute depending on depth and number of discs.
The weighted, self-sinking diffuser base keeps the micro-bubble diffuser discs off the bottom sediment and allows for quick and easy installations. Ideal for deicing as well, air diffusers use less energy and are easier to service compared with submersed agitation style deicers.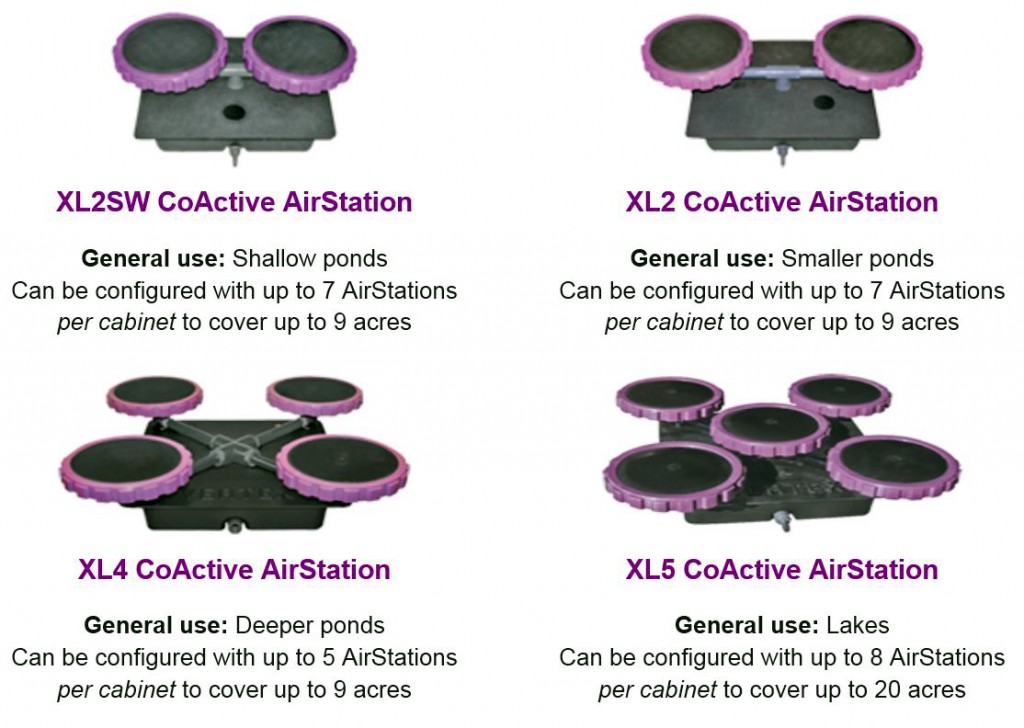 Diffuser Features
• More energy efficient die cut perforations
• "Delta" surface pattern increases active surface area and aeration efficiency during low and moderate air flows
• Reformulated proprietary membrane compound increases flexibility, wear, and clog resistance
• Larger, stronger diffuser ring improves membrane retention and service life
• Redesigned and strengthened diffuser body and membrane backing plate
• StableTrak™ technology increases lift velocity
• FlowControl™ technology equalizes airflow to each disk
• Base unit has a hollow chamber design for adding inert pea gravel ballast
• Lipped base design prevents diffuser from settling in to soft sediments
Brookwood™ Compressors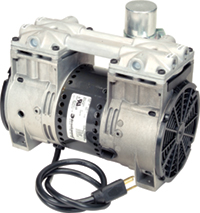 All Vertex Aeration systems are equipped with Brookwood™ air compressors. These energy-efficient air pumps are ideal for pond, lake and commercial aeration where continuous duty is required and long life is essential. These piston compressors provide high CFM and deep-water capabilities with over 30 PSI per unit.
Airflow rates are 2.5 CFM in the 1/3 HP, 4.3 CFM in the 1/2 HP and 5.6 CFM in the 3/4 HP.
Vertex Aeration Systems come with from 1 to 4 compressors to provide up to 22 CFM in a high pressure low-cost configuartion. Compressors come equipped with rubber vibration dampers and are installed with pressure relief valves and outlet manifolds in the QuietAir cabinet to reduce noise. An optional sound-proofing process is available.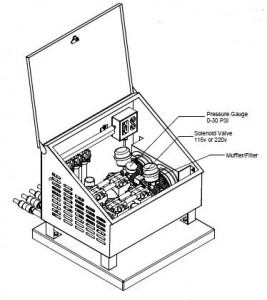 COMPRESSOR FEATURES
• SafeStart™ technology for full pressure restarts
• Highest flow rate of any compressor in its class
• Available in 115V 60 Hz or 220V – 240V, 50/60 Hz
• Oil-free – requires no lubrication
• 2 – 4 times the duty cycle of other compressors
• Thermal overload protection
• Superior piston design provides higher pressure, quieter operation and longer life than vane compressors
COM401-CK 1/3 hp Single Cylinder 115V Kit including compressor, vibration feet and filter/muffler 2.5CFM 35PSI
COM402-CK 1/3 hp Single Cylinder 230V Kit including compressor, vibration feet and filter/muffler 2.5CFM 35PSI
COM106-CK 1/2 hp Dual Cylinder 115V Kit including compressor, vibration feet and filter/muffler 4.3CFM 25PSI
COM405-CK 1/2 hp Dual Cylinder 230V Kit including compressor, vibration feet and filter/muffler 4.3CFM 25PSI
COM103-CK 3/4 hp Dual Cylinder 115V HighFlow Series Kit including compressor, vibration feet and filter/muffler 5.6CFM 25PSI COM403-CK 3/4 hp Dual Cylinder 230V HighFlow Series Kit including compressor, vibration feet and filter/muffler 5.6CFM 25PSI
Download the complete Pond-Lyfe Small Aeration Catalog from AcadianAquaticSystems.ca (1.2 MB PDF file)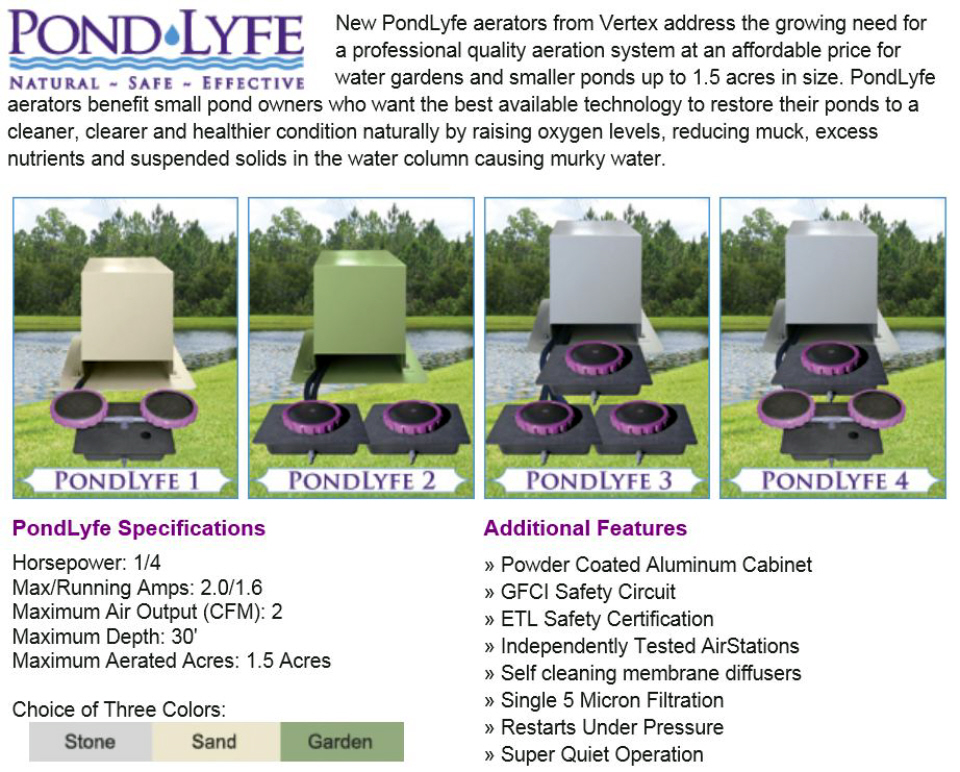 BottomLine™ Weighted Pond Tubing
Self-weighted air supply tubing has made quite an impression in the aeration industry. By addressing the needs of professionals in the lake management, golf course and parks and recreation industries, Vertex Water Features has developed the perfect airline supply tubing for lake aeration systems . . . and that's the Vertex BottomLine™!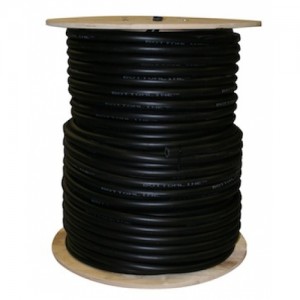 Available Formats
0.375? ID
0.58? ID
0.625? ID
0.75? ID
1.0? ID
2.0? ID
Depending on tubing diameter it is available in rolls or spools up to 500?. Contact us for specific requirements.
BottomLine™ Self-Sinking Tubing Features
• Use with standard PVC solvent weld cement
• High wall thickness for long term durability
• Remains flexible in cold temperatures
• Over-sized for high flow
• Self-weighted for easy installation
• Available in 100? and 500? increments
• Available in inside diameters from 3/8? to 2?
Tubing Comparisons
• Poly Tubing: Extremely labor intensive installation, bricks must be added for weight every few feet, thin walls cause frequent kinking and are easily punctured by fish hooks and wildlife.
• Lead-Keeled Poly Tubing: Has same thin wall problems as poly tubing plus highest costs and introduces potentially dangerous lead into the ecosystem.
• Other PVC Tubing: Stiff to begin with and becomes more rigid in cooler temperatures making installations difficult and labor intensive.
Contact us for pricing and information on Vertex Aeration or Fountains and recommendations for specific applications and design assistance. We serve Vertex aerators and de-icers in Nova Scotia, New Brunswick, Newfoundland and PEI as well as anywhere in Canada or the USA. Phone Toll Free 866-533-2863 or Email info@acadianaquaticsystems.ca