These fountains are proudly manufactured right here in Canada! In our continuing efforts to take our products to new levels, we have introduced the Olympus™ Series of floating fountains.
They are available in 4 sizes: 1/3 HP, 3/4 HP, 1 HP and 1.5 HP. The 1/3 HP and 3/4 HP models are available in 115V, the 1 HP and 1.5- HP models are available in 115 V or 230V.
The Olympus brand of fountains are a quantum leap forward in operational efficiency; you can now get more fountain with a bigger and higher jet at a lower horsepower than our competitors. This means you get more splash for your cash!
Now you can keep operating costs to a minimum without sacrificing height and diameter. With a variety of interchangeable nozzles heads, you can pick the size and pattern that fits your specific need and budget. You can also change the nozzle easily and you can add extra nozzles as an available option. These fountains are a favorite with golf courses, municipalities, campgrounds and recreational parks as well as typical pond owners who just want to add a little pep to their pond or lake. Designed to meet commercial standards at a price that anyone can afford. Because these are floating units any fluctuation in water depth will not affect the final spray pattern. For practicality and ease of installation these floating models are really the simplest to use and upkeep. The fountains are excellent at providing aeration, circulation and a decorative pattern, these fountain kits are aesthetic as well as efficient.
SEE ALL OLYMPUS FOUNTAIN SIZES
---
The EcoSeries™ Floating Fountain brings you the sound of water with beautiful industry leading spray patterns that outmatch other 3/4 HP and 1 HP fountains. The EcoSeries™ Fountain operates in as little as 24″ of depth and includes energy efficient 1/2 HP motor, 3 spray patterns, control panel and comes standard with 100′ of power cord. Available in 150′ and 200′ power cord lengths.
Optional lighting package includes either  two (2) warm white LED lights or a color-changing 2-light LED system, which attach to the low-profile float. Lighting connects to control panel with 100′ cord and quick-connect. Contact us if more cord is required.
Includes 3 Spray Patterns, Classic, Trumpet and the Crown & Trumpet.
Premium Spray Patterns Available (contact us)
Energy Efficient, Fully Sealed Motor. 5.6A, 550W @ 120V
Asynchronous Motor, Silicon Carbide (SiC) shaft bearing and ceramic shaft
Stainless Steel Suction Screen, Body and Motor Lead
Comes standard with 100′ Power Cord. All cords come with quick connects. Contact us for longer cord length option.
 Included Control Panel for Fountain
Operates in as Little as 24″ of water depth
3 Year Warranty
For more than four decades, Kasco Marine has manufactured aeration products of exceptional quality and durability in their Prescott, Wisconsin U.S.A. facility Their customer-focused philosophy ensures that customers get superior performance at a great value. Kasco serves Canadian clients with Canadian service facilities and a strong dealer network.Acadian Aquatic Systems can supply your Kasco fountain needs anywhere in Ontario and Canada and in Nova Scotia, Newfoundland, New Brunswick and PEI.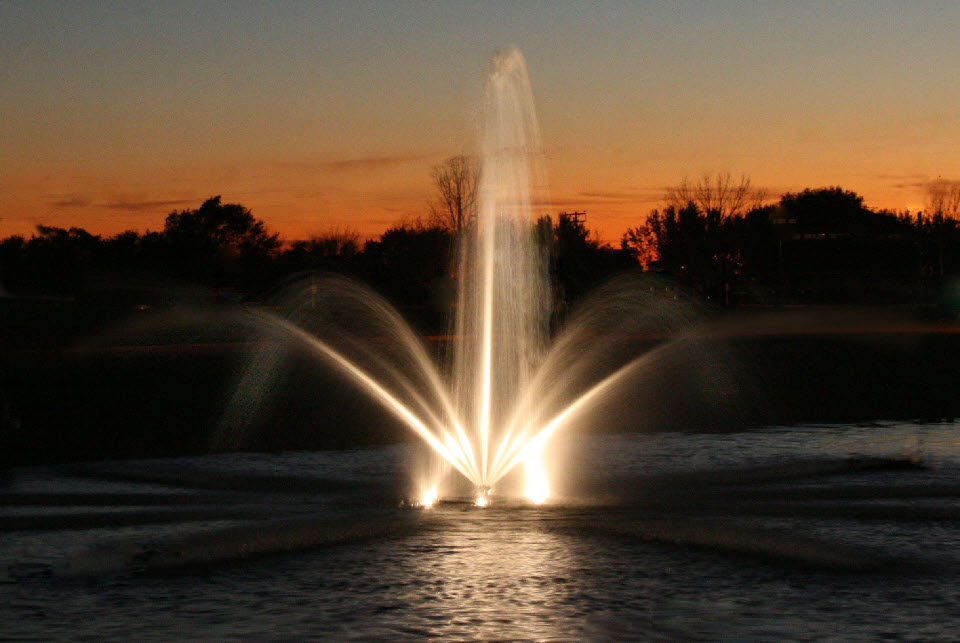 Kasco decorative fountains can be found in private ponds, on golf-course ponds and in municipal harbors and parks in many locations in Nova Scotia, PEI, New Brunswick and in Newfoundland. The fountains and decorative aerators are affordable and have a long warranty and excellent life-expectancy making them perfect for commercial applications, private ponds and lakes or municipal displays where dramatic pond display is required.
Kasco J-Series Aerating Fountains improve the overall water quality of your pond, while enhancing its appearance with interchangeable spray patterns — included in the fountain price!
Kasco J-Series Aerating Fountains are:
• the least expensive to purchase, maintain and operate
• providing the best value on the dollar! versatile
• get multiple, interchangeable spray patterns for the price of one!
3/4 and 1 hp = 5 patterns (3400JF, 4400JF)
2 hp and 3 hp = 6 patterns (8400JF, 2.3JF, 3.1JF)
5 hp = 7 patterns (5.1JF, 5.3JF)
7.5 hp = 7 patterns (7.3JF – 3 Phase Power Only)
Single Phase or three phase (3 phase) power available on 2, 3 and 5 HP Models.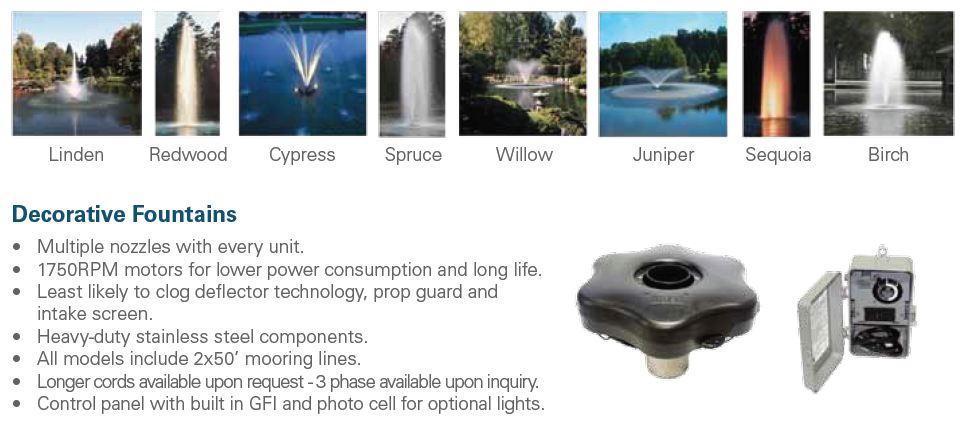 Fountains are complete with everything you need:
• nozzles to create multiple decorative spray patterns, control panel with Ground Fault Interrupter and photo-eye for optional light kit, power cord (available in 50′ increments up to 200′; 250, 300', 400', and 500' cords also available for 240V models), and mooring lines. industrial strength
• designed with heavy-duty stainless steel components for continuous operation, extended motor life and corrosion prevention (even in salt water.) energy efficient
• 1750 rpm motors mean lower power consumption and longer life for seals and bearings. Compare Kasco's amp draws to competitive units and see what you save on your monthly power bill. highly dependable
• units are designed to operate continuously with minimal maintenance, even in shallow water. They are the least likely fountains to clog of any manufacturer because of Kasco's deflector technology, prop guard, and standard bottom intake screen. easy to use and install
• fountains are easy to install, move, and operate. Spray nozzles are easily switched within 30 seconds.
Kasco fountains are approved to UL and CSA standards by ETL as complete packages. Each 3/4 and 1 hp fountain comes with a 2-year manufacturer's warranty 2, 3, and 5 hp fountains include a 3-year warranty.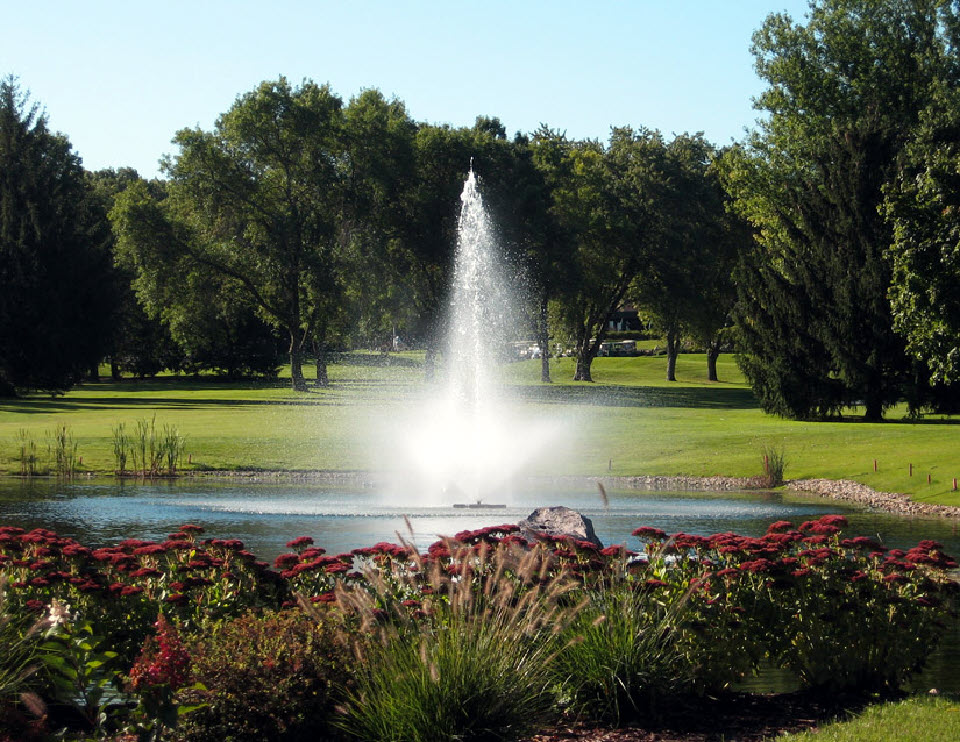 Optional Lighting Kits Add Dramatic Beauty
Kasco J-Series Fountains are available with an optional decorative 2- or 3-light kit to add beauty and interest to your aerated pond.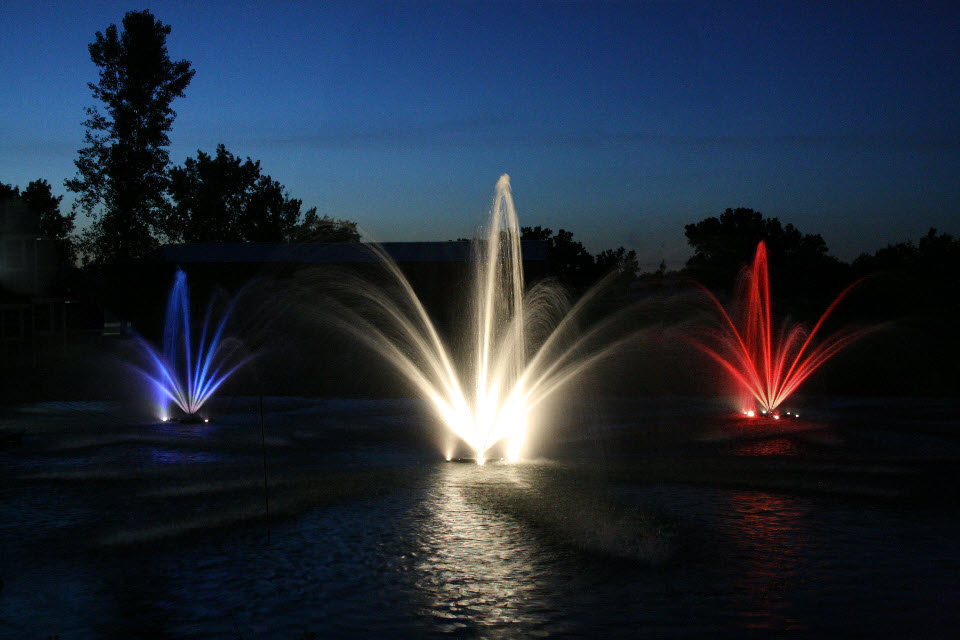 The superior design of Kasco lighting sets a new quality standard that competitors attempt to achieve!
• Kasco lights require only partial submergence. Partial submergence provides great lighting and requires less wattage than competitive units that must be fully submerged. Greater light penetration per watt results in lower operating costs.
• Lights convert to 12-volt from 120-volt (via a junction box under the float) to provide a brighter display.
• Light fixtures are made from solid bronze and include clear lenses, internal potting materials with thermal overload protection, and multiple seals.
• Note: 3/4 HP fountains can use a 2-light kit (Part #: LR275). All other fountains can use a 3-light kit (Part #: LR375). The 2, 3 and 5 HP fountains can accept two # LR375 kits (6 lights total).
• LED lighting Kits are now available for unsurpassed durability and longevity. Ask us about the new LED Kasco lighting systems.
The new Water Glow LED lighting system for floating aerating fountains is now available. When added to a new or existing floating fountain, this system adds a new dimension of beauty and enjoyment to a fountain display during the nighttime hours. The system uses energy-saving LED technology which provides several distinct advantages over traditional incandescent/halogen lighting sources.
The LED system reduces power consumption up to 80%, with no noticeable difference in light quality, color or output when compared to Halogen bulbs. This allows users to enjoy an extended nighttime fountain display with minimal added power cost. Each fixture in the Water Glow system incorporates an LED array that produces eye-appealing, warm-white light (3000 kelvin) that is comparable to a halogen MR-16 lamp. In addition, each LED array and driver is rated for 50,000 hours of operation, about 10 years of normal use.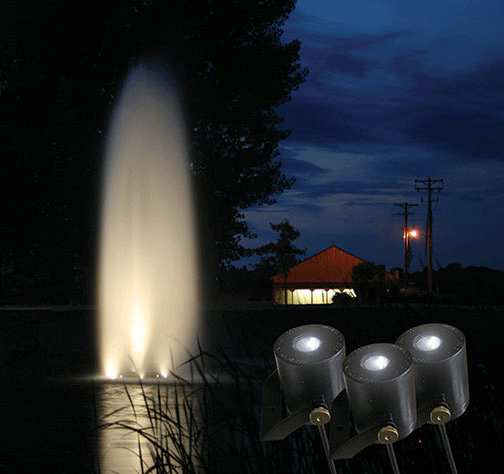 This eliminates the need to disassemble and re-lamp each fixture on an annual basis. The Water Glow system is available in either 3 fixture or 6 fixture packages and with cord lengths of 50 to 500 feet, providing easy installation with all of Kasco fountain packages from ½ hp to 7.5 hp. Each set of three lights consumes 27 watts of power.
Each fixture is constructed of robust engineered thermoplastics, corrosion-resistant bronze and stainless steel components incorporating an innovative adjusting bracket for precise aiming to assure full illumination of the fountain pattern.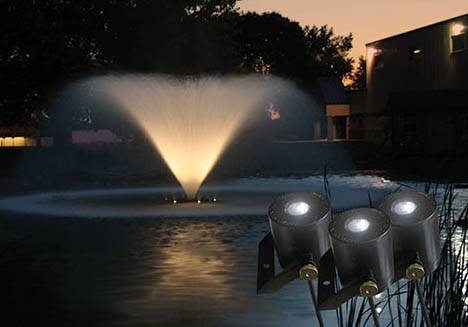 Fixture lenses remain cool-to-the-touch during operation which reduces build-up of evaporation mineral deposits and frequent lens cleaning often associated with traditional fountain lighting. Each fixture's LED driver automatically self-regulates and accepts a universal voltage range of 85 to 265 VAC without impacting light output. This allows direct connection into a GFCI outlet or GFCI-protected control panel without need for a separate transformer.
Each driver incorporates open circuit, short circuit, overload, over-temperature, and under-voltage protection. Individual fixtures can be removed or changed with simple waterproof connectors that are IP-68 rated and require no tools to disconnect. The Water Glow LED lighting systems are priced competitively with other halogen-type lighting systems while offering a lower total life cycle cost due to lower power use and reduced maintenance.